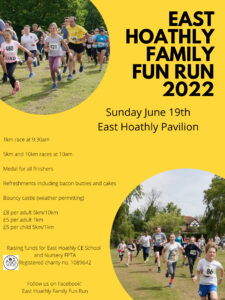 Welcome to the East Hoathly Family Fun Run! 2022 is our third year of holding this event, and it promises to be a good one! This year we will have entertainment from the fabulous SkullDrummery, Ginger's Dance, and Nova School of Dance, plus a bouncy castle obstacle course, and of course refreshments, cakes and bacon butties! There will be photos of the runners available to download for free after the event, and a medal for all finishers.
New for 2022! This year, we are excited to be holding a 10k race for the first time. Both 5k and 10k runners will set off from the playing field at 10am, but will split off in different directions on Buttsfield Lane.
5k route: Unchanged from previous years, the route includes footpaths, fields and ancient woodland surrounding East Hoathly. The route will be well signed, and there will be marshals along the way. There will also be a water station approximately half way round the course. There is a small section on the road, but this will be closed off to traffic for the duration of the run.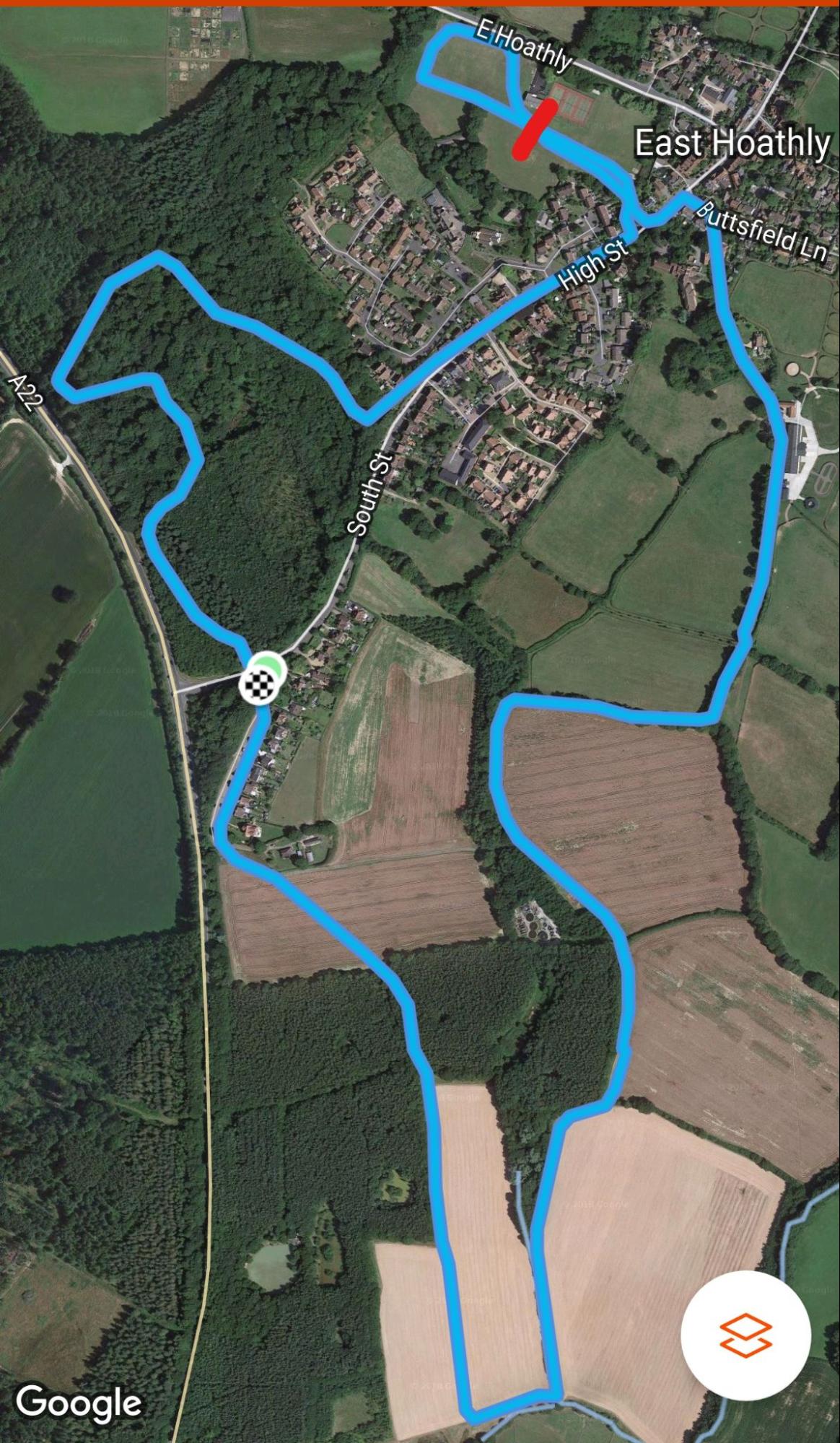 10k route: This is a beautiful route, following the Wealdway out of East Hoathly to Chiddingly, then returning to East Hoathly along the Vanguard Way, Ailies Lane, and the Wealdway. It is relatively flat, but there are several stiles and gates along the way. There will be marshals at key points along the route, and there will be plenty of signs to make sure no one gets lost! There will also be a water station approximately half way around the course. Due to the length of this route, it is only open to age 15 and above.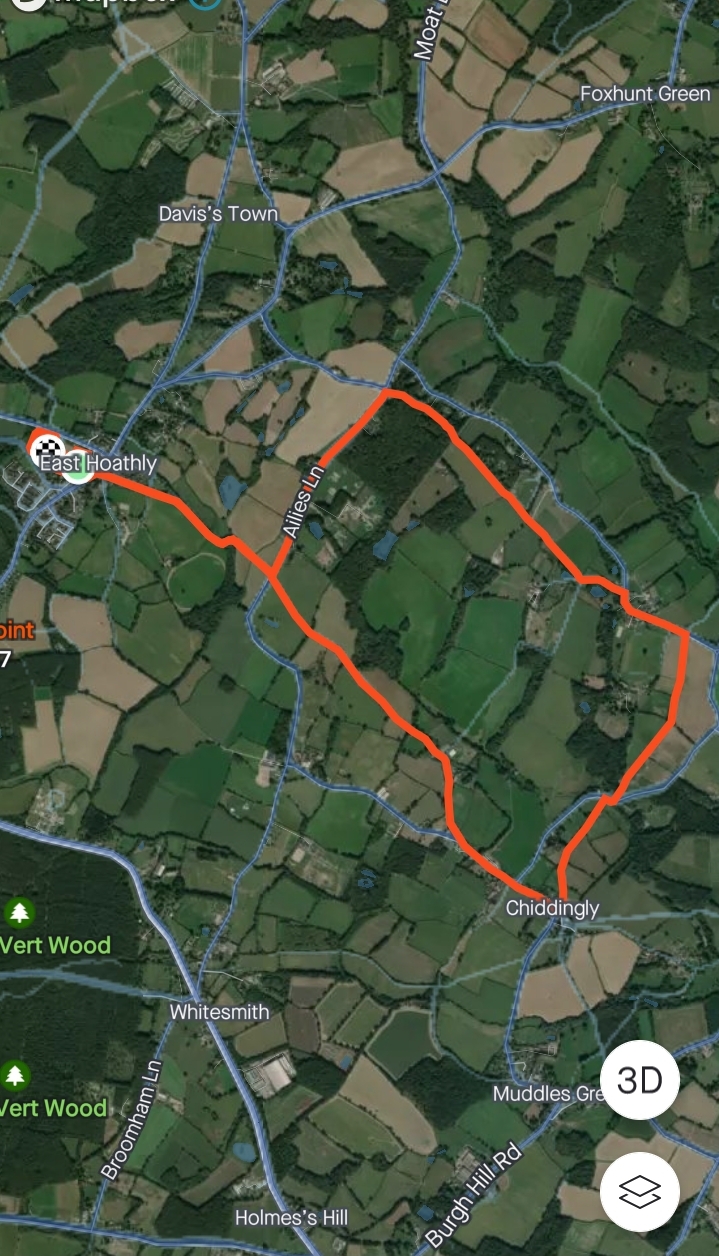 On the day:
| | |
| --- | --- |
| 08:15 | Registration opens |
| 09:20 | Fun warm up by Jade of Ginger's Dance |
| 09:30 | 1k race |
| 09:50 | Warm up by Jade |
| 10:00 | 5k and 10k race |
| 11:00 | Performances by Ginger's Dance, and Nova School of Dance |
| 11:15 | Raffle |
| 11:25 | Trophy presentation |
(Please note, all timings are approximate)
Timing: All races will be timed, and times will be published on our facebook page and on here after the event. There will be trophies for the winners of each race, plus first child in the 5k. All finishers will receive a medal.
Water Stations: Both 5k and 10k routes will have a water station, with reusable cups, although we do encourage runners to bring a bottle of water to run with in case of warm weather.
Parking: The main road through East Hoathly will be closed for the 5k route, to ensure the safety of children running. Please ensure you arrive in plenty of time to park. There is limited parking at the pavilion, and on London Road. Further parking can be found along South Street, in the car park by the school, and along Waldron Road.
Registration: Pre-registration is advised, as queues can be long on the morning of the run. Please click here to enter online. Payment needs to be made separately; please follow instructions in the online entry form. You can then just collect your number from the pavilion before the run. If you wish to enter on the day, please ensure you arrive in plenty of time!
Raffle: Tickets will be sold from school, and the village shop, in the weeks leading up to the fun run, and of course on the actual day! We have a good selection of prizes so far, including: The Grand Brighton: lunch for 2 in Cyan restaurant (valid Wed - Fri), Blacksmith's Arms: meal for 4, Depot Cinema: 2 x tickets, Freedom Leisure Hailsham: family bowling, Dominos: 2 large pizzas, Planet Golf: 4 person ticket, £10 Hartfields voucher, £25 Jojo Maman Bebe voucher, £20 Boden voucher, Klean Kanteen drinking bottles, Heathfield Leisure Centre 1 month membership, Harry's reusable razor kit, Wild: reusable deodorant kit, Geo's Coffeehouse Herstmonceux £10 voucher, Washbrook's Family Farm family entry, Borde Hill family entry, Isenhurst Crowborough 1 month membership, Bentley Miniature Railway family day pass, Yankee candle, scarf, Masterpiece Pottery 1 mug or side plate (and drink).
The Comittee
Our FPTA committee are a group of parents who meet regularly to arrange events, which bring our school and community together. These events support and raise funds for our school.
Who is in the committee?
Chairs - Emma Simonetti
Secretary - Helen Dunn
Treasurer - Emily Fawls
Teacher Link – Mrs Wythe
Whilst there is an elected committee of volunteers we are also lucky to welcome other parents and family members to join the meetings, share ideas and be part of our events.
What have our FPTA funded this academic year?
Funding towards an Olympic Athlete for Sports Week.
New monkey bars for the outdoor trim trail.
Christmas Pantomime for all pupils.
Prizes for British Values cake sales
Prizes for Road Safety Competition
The FPTA have supported and provided refreshments at the following events:
Harvest Festival
Christmas Productions
New parents open evenings.
Our regular events include:
Christmas Fairs
Christmas Cards, Tea towels and aprons.
Termly cake and healthy alternative sales – Including snacks made by each class.
Alternate termly Disco's and Movie Nights.
Please see the dates list for our upcoming events including the Spring Fete and Family Fun Run!
FPTA Meeting Minutes